Peanut Butter Cookies are a well loved cookie in my family, so leave it to me to come up with a version using plant-based ingredients and dates for the sweetener. I am always trying to put my own spin on recipes from my childhood or recipes I know people in my family enjoy. 
 I made 3 variations in one week, and my family loved all three of them. They were a hit! 
These peanut butter cookies are a deliciously, naturally sweetened, and softer cookie, feel free to play with the baking time if you want them a little more crunchy. 
A few notes before you get started:
BLENDER VS FOOD PROCESSOR: I have yet to try this in a food processor, but I am sure it would turn out great! Next batch of cookies I make, I will be testing the food processor. Go easy on your blending, the peanut butter cookie ingredients are dense and may cause the blender to over heat. This is why I find it helpful to do things in shifts to help get the texture right while also not over heating the blender. 
OATS: I have tested this recipe with 1 cup oat flour, 1½ cup oat flour, and 1¼ cup oat flour. They were all great- so I just went in the middle. Feel free to play around with what works for you. 
STICKY DOUGH: If your cookie dough is too sticky to work with, pop it in the fridge for at least 20-30 minutes to chill. I also found it helpful to lightly wet the work when making criss-cross designs to help keep the fork from sticking to the dough.
BAKE TIME: Feel free to add a little more time on the cookies if you want them more crunchy. I'd say, if you do longer than my suggested 12 minutes- check them at about 15-18 minutes to make sure they aren't burning. 
OLD RECIPE: I have updated this recipe from an old version on my blog. It was from when I first made my recipe blog- so it's been a long time since I made this and wasn't a big fan of all the ingredients in it (It called for ripe avocado- that's not always convenient. And I have also come to realize that flaxseeds aren't always necessary in vegan/ plant-based cooking or baking to bind ingredients. I love flaxseeds, but they do tend to dull out some of the wonderful flavors of the recipes it's in. If you loved the old recipe, I'll leave it here for you in case you still want it. Ingredients: 1 cup packed dates (pitted)*, ⅓ cup hot water, 1 cup peanut butter (no added sugar), 1¼ cup oats (or whole wheat flour), 1 tsp baking powder, ½ cup mashed avocado, 1 flax egg (1 Tbsp ground flax + 3 Tbsp water). 
STORAGE: I like to keep these cookies in the fridge. Some family like leaving them on the counter. I had so many cookies coming out of my kitchen at once, that I even threw a hand-full of these peanut butter cookies in the freezer. 
Now for the new version of this recipe..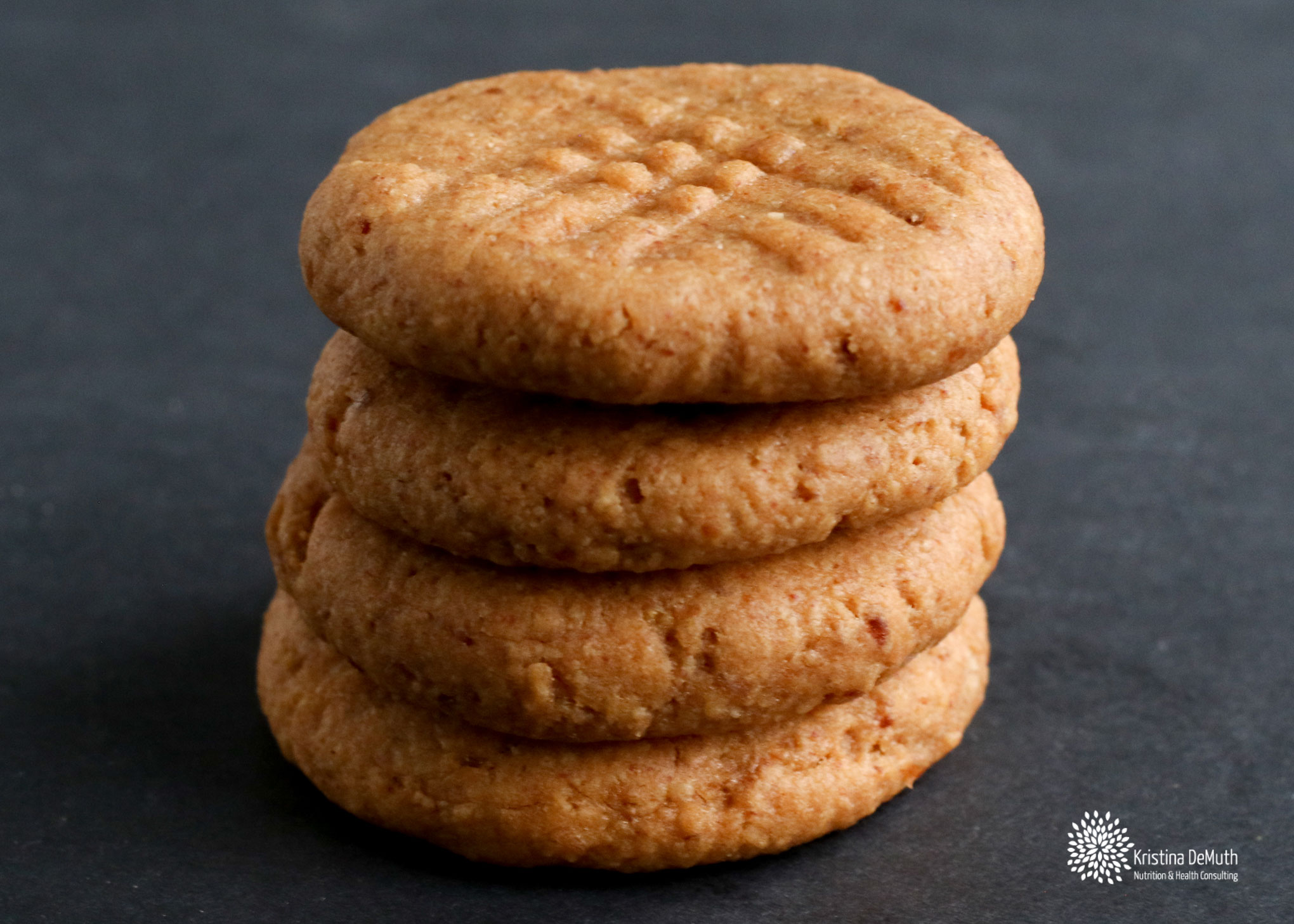 Peanut Butter Cookies
A healthy plant-based peanut butter cookie sweetened with dates.
Ingredients
1¼

cups

rolled oats 

1

teaspoon

baking powder

1

cup

packed, pitted dates

½

cup

hot water

¾

cup

unsweetened peanut butter 

1

teaspoon

vanilla
Instructions
In a high speed blender, blend the oats until fine like flour. Transfer to a bowl, and stir in the baking powder. Set aside.

Add the pitted dates and hot water to a high speed blender. Blend until fairly smooth, then add the peanut butter. Blend again. Next add the flour. Blend until all the ingredients are well combined.

Line a cookie sheet with parchment paper or a silicon mat. Roll dough into ~ 24 balls and place on the paper. Flatten with a fork using criss-cross patterns.

Bake for 12 minutes, or until desired texture. Remove from the oven and allow the cookies to cool.

Store in an airtight container on the counter, fridge, or freezer.