The smell of cinnamon and spiced Pumpkin Bread is in the air! Fall is officially here, and so are all the fall flavors and treats! This Pumpkin Bread has become a favorite around my household, a fall comfort food with the warm spices and lightly sweet flavor.  
Despite being prepared with healthier ingredients, this bread is packed with flavor and great texture! This pumpkin bread is very unique as it's made without the oil, sweetened with just fruit (thanks to those dates!), and made with oat flour (a whole grain). It may be a bit more dense than your typical pumpkin bread, due to the nature of the ingredients- but my family and I love this bread! I hope you enjoy it too!
For just ⅛ of this recipe, you get about 6.5 grams of fiber and 6.5 grams of protein thanks to all those delicious and wholesome plant-based ingredients.
The nuts add healthy sources of fats to this recipe. However, feel free to omit them for nut allergies or if you are looking for a "lighter" option. The walnuts and Cashew Date Icing add a lot of texture to the bread, but it's still delicious without it. You can also swap the soymilk for other plant-based milks, just look for unsweetened varieties to keep it added sugar free.
The topping for this pumpkin bread is a Vanilla Cashew Date Icing from my blog. It's lightly sweet and flavorful addition to this bread, highly recommend it! You will likely need only about ¼-⅓ of the recipe, but I find that it's much easier to blend the cashews and dates when there is more in the blender. You can try to make a ½ batch recipe. If you decide to make the full batch and have leftovers- see my notes about other ways to use the cashew date icing or freeze it until the next time.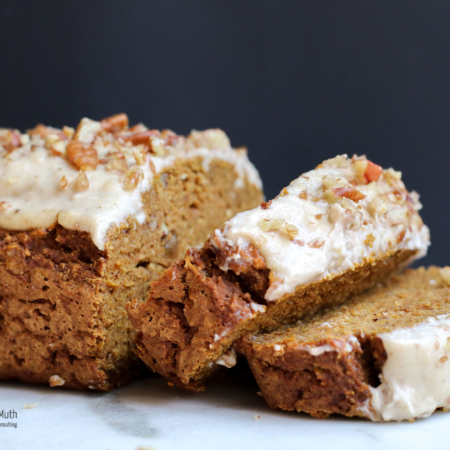 Pumpkin Bread
Pumpkin Bread that is packed with nutritious ingredients and delicious fall flavors. Top with a Vanilla Cashew Date Icing for the ultimate treat.
Ingredients
1

tablespoon

apple cider vinegar

½

cup

unsweetened soymilk

2 ½

cups

old fashioned rolled oats

1

teaspoon

aluminum-free baking powder*

1

teaspoon

baking soda*

2-3

teaspoons

cinnamon

¼

teaspoon

ground cloves

½

teaspoon

ground nutmeg

1

(15 oz)

can of 100% pure pumpkin

(1¾ cups pumpkin purée)

¾

cup

pitted and chopped dates

1

teaspoon

vanilla extract

½

cup

raw walnuts or pecans, chopped (optional)

Vanilla Cashew Date Icing

(see note)
Instructions
Preheat the oven to 350F.

In a small bowl, mix together the apple cider vinegar and unsweetened soymilk. Set aside and allow the milk to curdle.

Blend the oats until fine like flour in a dry high-speed blender. Pour the flour into a mixing bowl. 

Add the baking powder, baking soda, cinnamon, ground cloves, and ground nutmeg to the bowl with the oat flour. Stir well and then set aside.

In a high-speed blender, combine  apple cider vinegar and soymilk combo, pumpkin, pitted dates, and vanilla. Blend until smooth. The mixture is pretty thick, so it may help to stop the blender and stir the mixture around several times to get it to blend well. 

Optional to add chopped walnuts to the oat flour or reserve for the top only. If adding to the flour, stir the walnuts into the oat flour before adding the wet ingredients. Reserve some for the top, if desired. If using for the top only, skip this step.

Combine the pumpkin mixture and the oat flour. Fold until the flour and the liquid are well combined.

Line a loaf pan with parchment paper and then pour the pumpkin bread batter into the pan. Bake for 30-35 minutes or until complete. Use a tooth pick to check the bread at about 30 minutes. If it comes clean remove, the bread from the oven. Otherwise, bake for a few minutes longer.

Remove the bread from the loaf pan and allow to cool before cutting. 

Prepare the Vanilla Cashew Date Icing, if using.  Top the pumpkin bread with the icing. For more of a frosting look, wait until the bread is completely cool to add. For more of an icing look, add the icing when the bread is warm. 

After adding the icing, top the pumpkin bread with chopped walnuts or dust with cinnamon. 

Store the bread in an airtight container in the fridge. Freezes and thaws well, so feel free to make a double and freeze for the future. 
Notes
Vanilla Cashew Date Icing is just made with 1 cup raw dates, ½

cup pitted and chopped dates, 1 cup water, and 1-2 teaspoons vanilla extract. Blend until smooth. You will only need about

½- ⅓ of this recipe for the bread. It's just easier to make in a larger batch. See recipe for ideas on how to store or use leftovers.
For a lower sodium bread, omit the baking soda and use 2 teaspoons of baking powder or 2 teaspoons of no salt added baking powder instead. The baking powder version cuts the sodium by about 74 mg per serving. Using a no salt added baking powder, the recipe has only about 11 mg of sodium per serving.