Taco soup is a great way to pack in lots of veggies and beans, in a flavorful way! This soup is quick, easy, and so delicious. Combining some classic taco ingredients (beans, corn, tomatoes) into a delicious soup, it's a dish that's sure to please!
As the cold weather moves in every fall and winter, soups become my cozy, comfort foods. I love fixing up a big batch of soup and having plenty of leftovers. Batch cooking, though sometimes exhausting in the moment, is one way I make sure to always have healthy meals on-hand for when the days get busy. I love having a few meals prepared for the week so I am mixing up my meal routine and not just resorting to a veggie bowl every meal, even though I absolutely love my bowls! It's nice to have a bit more variety throughout the week!
A few notes before you get started:
SERVING SIZE: This recipe makes a lot of soup, probably enough for about 6-8 people. It's perfect for hungry bellies and tasty leftovers! If you are like me, leftovers are a time saver! Batch cooking large meals is ideal in my world. If this is too much for you, please feel free to cut the recipe in 1/2 to make a smaller batch or consider freezing some for the future!
VEGGIES: Mix and match the veggies with what you have on hand or add in your favorites. Zucchini and mushrooms would all be great additions! Use fresh tomatoes instead of canned if you want or some fresh chili peppers. Soup is great because you really can make it your own!
WATER OR BROTH: Feel free to swap out the water with a low sodium or salt-free vegetable broth. I honestly just dont keep vegetable broth around very often- so I use water in my soups and flavor them up well with other ingredient. The Light Vegetable Broth from the How Not to Diet Cookbook is absolutely delicious- so if you have the time to fix up your own broth, that's for sure one I'd recommend (ps. I have made this broth many times and do not simmer for the full hour- so you can short cut that if you want!).
SEASONINGS/ NUTRITIONAL YEAST: Feel free to customize this to your liking! Add more or less of any of the flavorings and make it your own. Nutritional yeast is not required to make this soup, but it packs in a lot of umami, cheesy flavor. If you want more of a chili flavor, add about 1 tablespoon of chili powder to the recipe.
MISO PASTE: I prefer to use miso in my recipes to add a slaty flare- with added benefits. It's a technique I learned from NutritionFacts.org recipe development. Feel free to omit and adjust the seasonings, as desired.
LARGE POT: This soup makes a large batch of soup. So you will want to use the largest pot you have (The 6.5 quart/ 6.5 Liters pot I have is what works best for me). If you only of a mid-size pot (say about 3.5 quarts/ 6.5 Liters), here are some tips I have learned. You will want to roast your sweet potatoes on the side and add them at the very end (or just have people add them when serving). Hold off on adding the beans until they very end stage too. If you need too, transfer the soup to a large bowl after everything cooks and then mix the beans and kale in.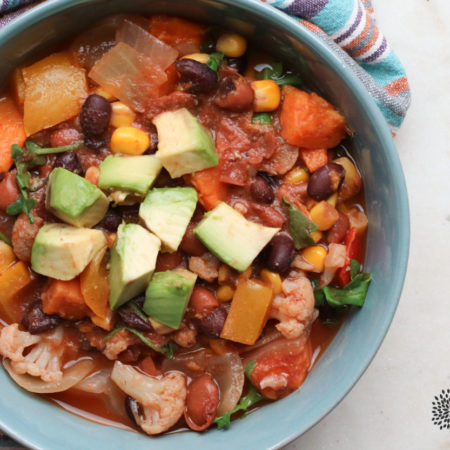 Taco Soup
This soup is quick, easy, and tasty. Combining classic taco ingredients into a delicious soup, it's a dish that's sure to please.
Ingredients
5-8

cups

diced orange or Japanese sweet potatoes

(about 2 large potatoes)

1

large red or yellow onion, chopped

4

cups

chopped cauliflower or riced cauliflower*

1

tablespoon

ground cumin

1

tablespoon

garlic powder

1

teaspoon

paprika

2

large bell peppers, chopped

2

cups

frozen or fresh corn*

1

(6 oz)

BPA-free can or jar of tomato paste

6-8

cups

water or salt-free vegetable broth, divided

¼- ½

cup

nutritional yeast, or more as desired

1

(15 oz)

BPA-free can of diced tomatoes with the liquid

2

(15 oz)

BPA-free cans of black beans, drained and rinsed

(or 3 cups cooked)

2

(15 oz)

BPA-free cans of pinto beans, drained and rinsed

(or 3 cups cooked)

2

tablespoons

white miso paste

Black pepper, to taste

Cayenne, to taste

(optional)

4

cups

chopped kale

(or other dark green leafy vegeteable)
Optional Toppings
fresh cilantro, chopped

diced avocado

crushed red pepper
Instructions
Prepare the Sweet Potatoes.
Prepare the sweet potatoes by either roasting in an oven (or air frier) or sautéing in the pan. To roast, preheat the oven to 425F and roast the sweet potatoes on a lined baking sheet until cooked to desired texture. Add roasted sweet potatoes at the last step of the soup with the chopped kale.

To sauté, add about ¼ cup of water and the sweet potatoes to a large pot. Sauté on medium-high heat until the sweet potatoes start to soften, but avoid over cooking. Then continue with the rest of the soup.
Taco Soup
Add the onions to a large pot. Sauté, adding small amounts of water, as needed, to keep the onions from sticking to the pot (adding 1-2 tablespoons of water at a time).

Once the onions start to soften, add the cauliflower, ground cumin, chili powder, garlic powder, and paprika. Add 1-2 tablespoons of water at a time, as needed. Cook for 2-3 minutes.

Add the peppers and corn to the pot, and continue to cook for a few more minutes.

In a small bowl, combine the tomato paste and nutritional yeast with 1 cup of water. Stir until well combined.

Add the tomato paste mixture, diced tomatoes, beans, and the remaining water to the pot. Stir together until well combined. 

Bring the soup to a boil, and then lower the heat and allow to simmer on low for about 15-20 minutes or until the vegetables reach desired texture.

In a small bowl, combine the miso paste with about 2-3 tablespoons of the soup broth. Mix together until well combined and then stir into the soup. 

Add the black pepper and cayenne to the soup.

Just before serving, stir the chopped kale. Cook for about 1-2 minutes to allow the kale to wilt down.

Serve topped with fresh cilantro, diced avocado, and crushed red pepper.
Notes
*If using frozen riced cauliflower and corn, thaw both before adding to the pot.
*Optional to also add 1 tablespoons chili powder with the rest of the spice ingredients. In makes the soup taste a bit more like a classic chili recipe.