No bake, Banana Cream Pie is a naturally sweetened, decadent dessert that's both easy to make and absolutely delicious! Made with just 6 plant-based ingredients (cashews, almonds, water, dates, bananas, and vanilla). That's it! It's made with all healthy, whole foods ingredients, but trust me- it's not missing out! This Banana Cream Pie is packed with so much flavor, sweetness, and great texture! This Banana Cream Pie a family favorite recipe for years now! My immediate family and extended family have all got to sample this creation, and it's been a hit! 
Dates are a naturally sweet fruit that is also a great source of fiber! One date has 1.6 grams of fiber (refined table sugar has none). They are also packed with phytonutrients, as well as vitamins and minerals (e.g. copper, potassium, vitamin B6). 
Dates are one of the healthiest sugars on the planet– and a perfect whole food ingredient. They are my sweetener of choice, and that's why you'll find them in all of my sweet recipes. 
A few notes before you get started:
STORING/ SERVING: My older version of this recipe recommended either storing in the freezer or fridge, but I have since decided to just stick to the freezer method for the recipe below. You can really do either, but it will depend on your personal preference for how you enjoying eating the pie! Over the past few years, I have stuck to the freezer method- so that's my go-to. You can enjoy this pie right away, but the filling will be much softer and harder to cut and work with. I find it will firm up once chilled. If you freeze it, you can decide if you want to serve it more like nice cream or banana cream. The pie is much easier to slice and serve once it's been frozen for a bit. Since bananas have a tendency to brown up, I would recommend adding the banana topping to the pie right before serving ( if using the fridge method). The freezer method will slow down the browning process, so top the pie with bananas right away.
CRUST: The crust can either be sticky like a Lara bar texture or more crumbly. Feel free to play with this and find what you like best! The kind of dates used might make a difference in this step too. I used to use Medjool dates in my recipes, but have switched to using Deglet Nour. I prefer Medjool, as they are softer dates, but I use the Deglet Nour because I can get them much cheaper at Costco. The Medjool dates are much softer in my experience than the Deglet Nour- and this might make a difference in the crust stickiness. Different food processor might work a little differently too, so you might find adding a little water will help it to stick more together. Feel free to add a few more dates, if need be, to help the crust stick together better.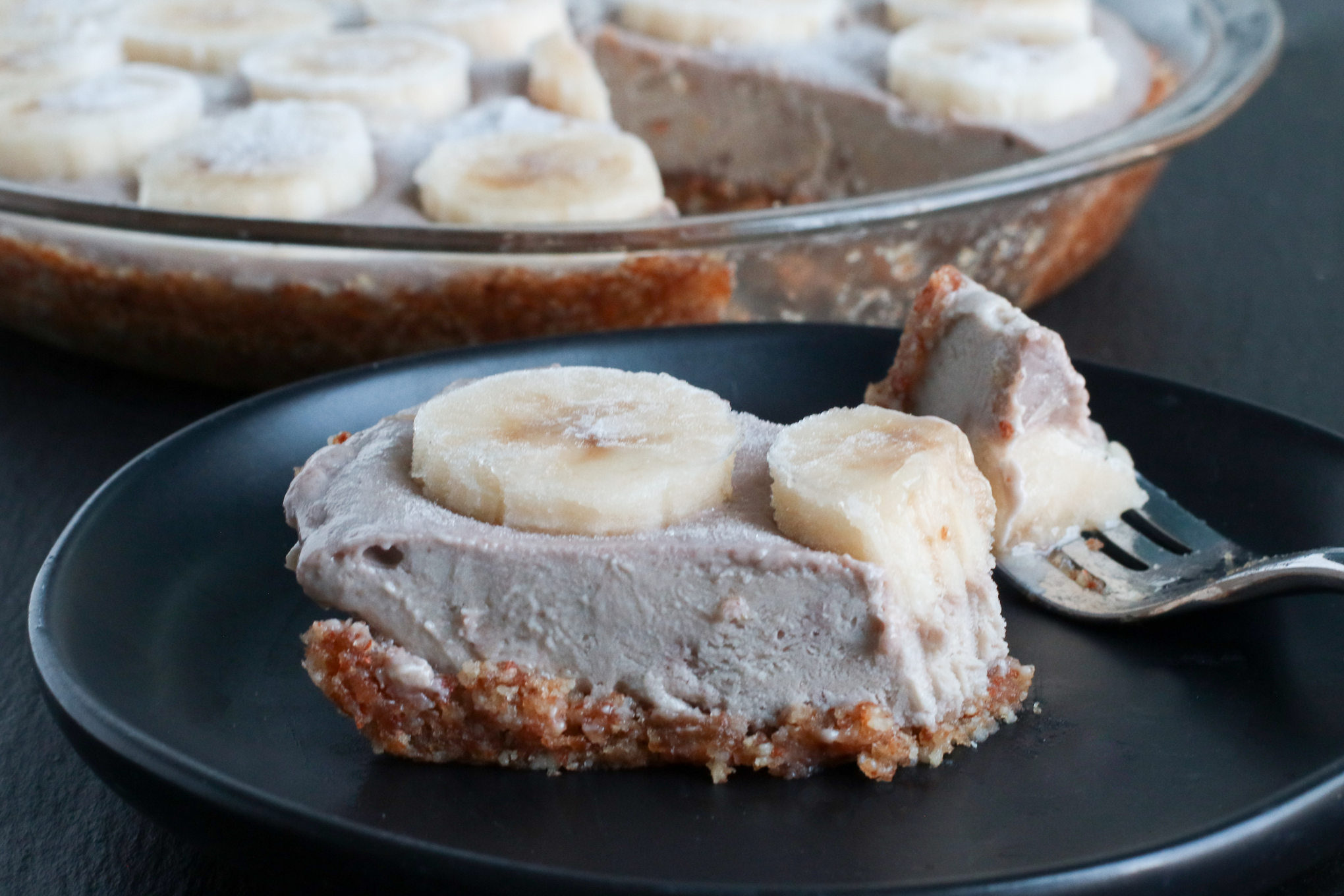 Banana Cream Pie
No bake, Banana Cream Pie is a naturally sweetened, decadent dessert that's both easy to make and absolutely delicious! Made with just 6 plant-based ingredients.
Ingredients
Crust
1

cup

raw almonds

½

cup

chopped pitted dates

 1-2

teaspoons

water, if needed
Filling
1

cup

raw cashews

3

cups

sliced ripe bananas

1

teaspoon

vanilla extract 

¼

cup

chopped pitted dates

¼

cup

water 
Toppings
2-3

ripe bananas, sliced 

unsweetened coconut flakes

(optional)
Instructions
In a food processor, combine the almonds and the dates. Pulse together until the crust sticks together. Add 1-2 teaspoons of water if needed to help it stick together. The crust should stick together when pinched. Feel free to make the crust crumbly or sticky.

Pour the crust into a 9 inch glass pie dish. Using clean hands or the back of a spoon, spread the pie crust out until it fills the dish evenly. Press it together along the bottom and edges of the dish. 

Add the filling ingredients to a high speed blender. Blend until smooth. Add an additional 1-4 tablespoons of water, if needed to help make it smoother. 

Pour the pie filling on top of the pie crust and smooth out with a spatula or spoon. Top with banana slices. Optional to add some unsweetened coconut flakes.

Cover the pie and place it into the freezer. Allow the pie to set for ~3-4 hours before serving. For a frozen pie, serve completely frozen. For a softer pie, allow if to thaw slightly before serving. Store leftover pie in the freezer.