An easy and delicious salad that's packed with summer flavors. This Lemon Basil Pasta Salad is a perfect go-to salad when you want to beat the heat and do minimal cooking. Simply just chop the veggies, blend the sauce, prepare the pasta, and rinse the beans, toss it all together, and you've got yourself a hearty salad that's perfect for lunch or dinner.
I love my pasta salads packed with colorful veggies! Not only does it make the dish so pretty, but it adds a variety of phytonutrients to the meal too. Phytonutrients are the antioxidants that give plants their colors and provide us with health benefits. There are estimated to be over 10,000 different kinds of phytonutrients found in plants! This is why it's so important to eat plants and not just take a supplement — it's impossible for humans to bottle up what nature has created for us. Try to eat a variety of fruits and vegetables each day and add in some variety of colors!
A few notes before you get started:
PASTA: Legume pasta is my pasta of choice- green lentil pasta, especially has been my go-to of choice. Tolerant lentil noodles, as well as some of the Whole Foods brand of legume-based pasta, have been reliable legume pasta brands in all of my cooking. I am not sponsored by them or make any money from them. I just have tried many other bean/ legume pastas and have found that Tolerant lentil pasta and the Whole Foods legume pasta hold their shape best in prepared dishes (some brands completely disintegrate once a sauce is added). Feel free to use whole wheat pasta here too.
VEGGIES: Feel free to mix and match your favorite veggies in this dish! If you've got produce on-hand that needs to be used up, swap it in. That's the beauty of cooking, you don't need to always follow the recipe! Though I have tested this with a bit more veggies than what is recommended here, and it was good- but it did loose a bit of the flavor from the sauce. So I would say, stick to roughly the measurements below (roughly 4 cups leafy greens and 9 cups other veggies). If swapping out the kale, choose a hearty green (arugula, collards, spinach) instead of a watery green (such as lettuce) if you plan to have this as leftovers. Most lettuce greens will get soggy soaked in sauce; whereas something more hearty will hold up really nicely for a few days.
BEANS: Feel free to use any kind of bean in this recipe! Roasted Tofu or tempeh would also be a great addition to this recipe.
WHITE MISO PASTE: I use miso for salty flavor- it's a technique I have carried over from my day job. If miso isn't an option for you, you can omit and use a pinch of iodized salt, if needed.
WATER: Feel free to use the full 1/3 cup water, but if you want a bit thicker sauce start with just 2 tablespoons and go up from there until it reaches desired consistency. The sauce will thin a bit more when mixed with all the ingredients. I have only made this using the full 1/3 cup of water, but it's on my list to try it with a little less next!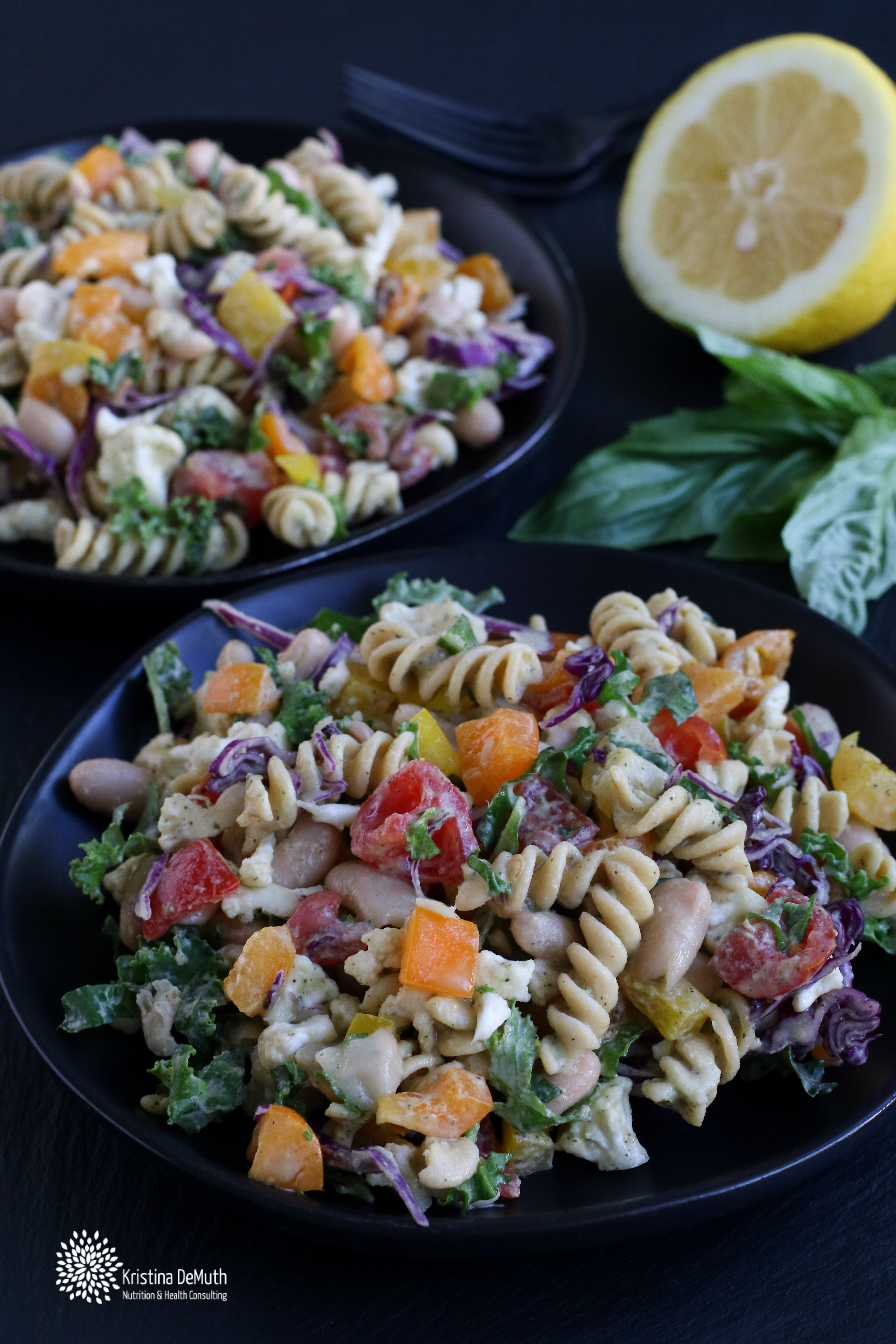 Lemon Basil Pasta Salad
An easy and delicious salad that's packed with summer flavors. This Lemon Basil Pasta Salad is a perfect go-to salad when you want to beat the heat and do minimal cooking.
Ingredients
Salad
1

(8oz) package whole grain or legume-based pasta

1-2

(15 oz) cans of white beans, drained and rinsed

3

cups

finely chopped cauliflower

4

cups

chopped kale, massaged

2

cups

diced cherry tomatoes

2

cups

shredded cabbage 

2

bell peppers, chopped

Fresh chopped basil

if desired
Dressing
⅓

cup

water

(see note)

⅓

cup

tahini

½

cup

fresh basil, chopped

½

cup

lemon juice 

1

tablespoon

white miso paste

½

teaspoon

garlic powder 

1

teaspoon

dried dill

½

teaspoon

black pepper
Instructions
Prepare the pasta according to the directions on the package. Set aside in a large mixing or serving bowl.

Drain and rinse the beans. Add to the bowl with the pasta.

Wash and prep the vegetables. If desired, chop and shred the veggies into small, bite size pieces. Massage the kale lightly to help soften it's texture. Add all the veggies to the bowl with the pasta and beans.

In a high-speed blender, combine all the dressing ingredients. Blend until smooth. Add any additional ingredients, to taste. Pour the dressing over the pasta and veggies. Stir until well combined. Add more black pepper to taste and any additional seasonings (such as lemon zest or crushed red pepper).

Allow the salad to chill or serve right away. Enjoy!