Minty Nice Cream is one of my favorites, especially when made with Chocolate Mint leaves! If you've never had Chocolate Mint before- it is absolutely decadent. The minty flavor on this variety of mint is incredible, so minty! Additionally, it has notes of chocolate which makes for an all around perfect dessert mint. We find it at one of our Farmers' Markets in the summer, and my mom just bought me a plant this year. I am so excited to grow my own! 
You can still make this nice cream without Chocolate Mint leaves, but with so many varieties of mint out there- you may need to adjust the mint leaves in the recipe accordingly. I would recommend tasting a mint leaf before starting to make this recipe. If the leaf is really minty, use less mint in the recipe. If the mint leaves are lacking potency, use more mint leaves in the recipe.
I like to store any leftover nice cream in silicon ice cube trays and then allow them to freeze up. Once frozen I transfer them to a silicon bag and keep them in the freezer. I will either blend-up the cubes for a smoothie in the future or eat the smoothie cubes as a treat. Minty Nice Cream cubes are one of my favorite after meal desserts these days!
Simply just take a cube out of the freezer, bit into it, and enjoy! It's the perfect, quick and easy treat! 
A few notes before you get started:
MINT: There are so many varieties of mint out there with varying tastes and flavors.  I have made this recipe twice, using two different kinds of mint. For the Chocolate Mint batch, I used 1/2 cup of mint leaves in the recipe and thought it was super flavorful. For the mint leaves I bought at the store (Spearmint), I used a full cup of leaves when making this recipe. I felt like that on could have used even more minty, but I like things really minty. 
DAIRY FREE MILK: You can use any kind of dairy-free milk of choice. I prefer soy milk because it's super creamy and provides a good amount of plant protein with each serving.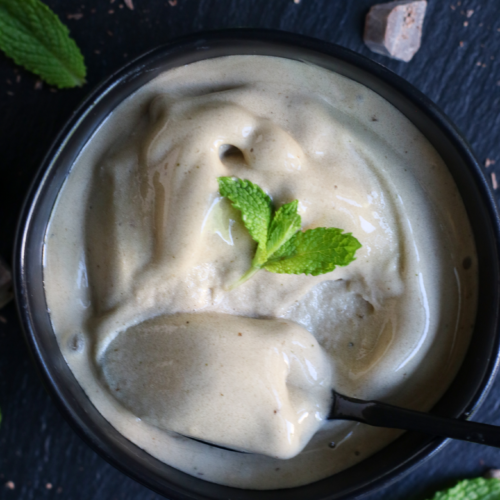 Minty Nice Cream
Ingredients
½ -1 

cup

mint leaves

(see note above)

½

cup

unsweetened soymilk

(or other dairy-free milk)

3-4

cups

frozen banana slices
Instructions
Blend the mint leaves and soymilk together until smooth. Add the frozen banana slices and blend on low until the bananas become smooth and creamy. If the mixture becomes stuck and still has lumps, stop the blender and move the nice cream around with a spoon.

Serve right away or freeze in ice cube trays for a tasty treat for later. Enjoy!

Serves about 3-4 people