Pistachio Crusted Tofu is a delicious way to enjoy tofu! It's packed with summer flavors, such as lemon, basil, and dill. It has a variety of textures from the chewy tofu to the crunchy pistachio crust. Tofu is a great source of plant-protein, and this preparation of it makes for a fancy —yet easy to make— dish to serve with your meals. Serve the Pistachio Crusted Tofu with a side of leafy green veggies, roasted vegetables, and sweet potatoes. This recipe pairs well with Lemon Quinoa Sweet Potato Salad. To learn more about the health benefits of soy foods, such as tofu, check out the NutritionFacts.org videos on soy. 
A few notes before you get started:
PRESS THE TOFU: Pressing the tofu helps to release the water in the tofu. This will help make for a chewier tofu texture once cooked. I just bought a tofu press and this has been a game changer. I used to just place my tofu between two plates and stack a bunch of heavy things on the plates— and it did the job, but it's a bit easier and more efficient using a press. The amount of time needed to press the tofu will vary by the method you are using at the brand of tofu. Everything is a bit different, but I'd say it's best to aim for 20-40 minutes.
TOFU: I recommend using extra firm tofu for this recipe. I buy the House Foods Organic Tofu from Costco and have had great results with that brand. The texture is thick and it holds it's shape really well, even after being pressed. If I try a different a different firmness level, I will update the notes.
MARINATING THE TOFU: I have been working on a version of this tofu that includes instructions for marinating the tofu. It's been hit or miss on if the marinate actually adds enough flavor. I have had a few test batches where it added a lot of flavor to the tofu, and a few were it hasn't. I think it really came down to how well the tofu was pressed and the cut of the tofu. A well pressed, thinner tofu likely had more flavor than a thicker cut. So if you'd like to try marinating the tofu, press it well and then cut it into a bit thinner slices. Marinate the tofu slices overnight in a sauce made-up of: 1/4 cup white balsamic vinegar or lemon juice, 2 teaspoons garlic powder, and 2 teaspoons onion powder. I whisk the ingredients together using a hand whisk, but feel free to use a blender too. The next day, prep the tofu following the directions below. 
BLENDER VS. FOOD PROCESSOR: You can use either a blender or a food processor. Both work well. If using a blender, you may find it helpful to first lightly blend the pistachios alone to help chop them up better before adding the wet ingredients. Chopping the basil into smaller pieces before adding it to the blender will make it easier to incorporate with the other ingredients too. I did not do either of these things when I tried the blender method, I just threw everything into the blender and started the machine. I ended up having to stop and move the ingredients around in the blender several times until I got the desired texture.
FREEZING: This makes a larger batch of tofu. If it's too much tofu for you and your crew, feel free to cut in half or consider making it all and freezing for future use. This freezes and thaws well, so it makes a great go-to main dish on a busy night.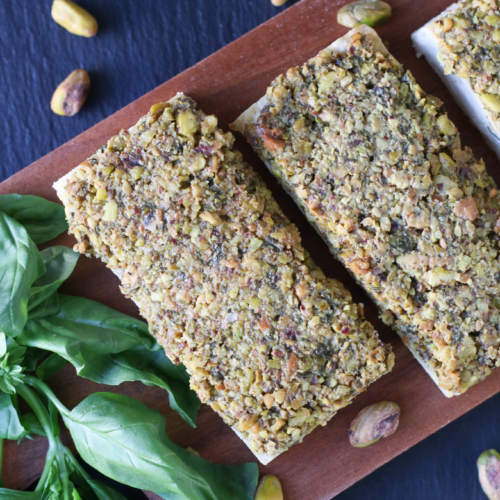 Pistachio Crusted Tofu
An easy to make, plant-based main course that's packed with summer flavors, such as lemon, basil, and dill. Serve with a side of leafy green veggies, roasted vegetables, and sweet potatoes.
Ingredients
2

packages of extra firm tofu

(~14 oz each)

1

tablespoon

ground flaxseed 

3

tablespoons

water

(without shells)

1

cup

pistachios

½

cup

chopped fresh basil

¼

cup

lemon juice

½

tablespoon

white miso paste

(optional) 

1

teaspoon

dried dill weed

1

teaspoon

garlic powder

¼

teaspoon

black pepper
Instructions
Press the tofu (see notes above) to remove the water. Once pressed, slice each block of tofu into 4-5 slices for a total of 8-10 pieces. 

Preheat the oven to 350F. 

In a bowl, combine the ground flaxseed and water. Stir together and let it sit for several minutes until it thickens. 

Add the pistachios, flax mixture, fresh basil, lemon juice, white miso paste, dried dill weed, garlic powder, and black pepper to a food processor. Blend the mixture together until reaches desired consistency. 

Line a baking sheet with a silicon baking sheet or parchment paper. Using a spoon, top each piece of tofu with the pistachio mixture. Press the mixture together and distribute evenly on the tofu. 

Bake the tofu for 30 minutes, or until the tofu reaches desired texture. Serve the tofu and enjoy!
Notes
Makes enough for 8-10 people.
Recipe originally published in 2016, updated in 2022.