Pineapple Ginger Agua Fresca
Agua fresas are a delicious way to drink your fruit, pulp intact! The origins of the drink comes from Mexico and Latin American countries. With the words agua fresca translating from Spanish into English as "fresh water."
This Pineapple Ginger Agua Fresca is one of my favorites! It's so refreshing, and makes me feel like I am on the beach!  Since I rarely drink alcohol, it's fun to also come up with refreshing non- alcoholic drinks to enjoy in the summer— or year round! This one is definitely refreshing and so delicious! 
Ginger is one of my favorite go-to spices. I am always looking for tasty ways to include it into my routine for all of it's wonderful health benefits like helping with menstrual pain, reducing muscle soreness, and more. The sweet and juicy pineapple does a nice job balancing the spicy, earthy flavors of ginger. However, if you are not a fan of ginger, feel free to start with a little less than I recommend and just add more to taste.
I am not a big "juice" fan, as juicing removes the beneficial fibers and polyphenol phytonutrients. Using a high speed blender, like a vitamix, you can really grind down the fibers of most fruits so they aren't so pulpy in the drink. My only disclaimer is, I do strain the pulp from the ginger in my recipes as I find it harder to grind down into a smooth texture– it's much more woody, in my opinion. In this recipe, ifyou want to keep the ginger fiber in the drink– feel free!
I have been getting creative with how I enjoy my agua fresca— a spritz of lime juice, mulled black berries, or pouring in some freshly blended watermelon juice! Adding the Mulled Blackberries or the watermelon separately to glasses when serving makes for a beautiful display of colors! 
A few notes before you get started:
If you'd like to add a little flare to your drink, here are a few simple instructions for some of my favorites.
Mulled Blackberries: To mull the blackberries, mash them with a fork until they reach desired texture. You will have some seeds in the drink, but I personally didnt mind. Place the black berries in the bottom of the serving glasses and then pour the ginger pineapple on top.
Watermelon Juice: To make watermelon juice, chop the watermelon into small pieces and add to a high speed blender. Blend until smooth. You shouldn't need to add any water to the watermelon, but it may help to stop the blender every now and then and adjust the watermelon pieces in the blender (I learned this when using watermelon pieces that were a bit too big). Six cups cut water melon yields about four cups of juice. Leftover juice can be enjoyed on its own or pour into ice cube trays for future drinks or smoothies.
Ginger: Any leftover ginger can be chopped and stored in the freezer for next time you need it. Feel free to adjust the ginger to your liking.
Pineapple: You can use frozen pineapple for this recipe too. You may find it helpful to allow it to thaw just a bit before blending it up.
Feel free to get creative with other fruits! The sky is the limit and I am looking forward to experimenting with other flavors.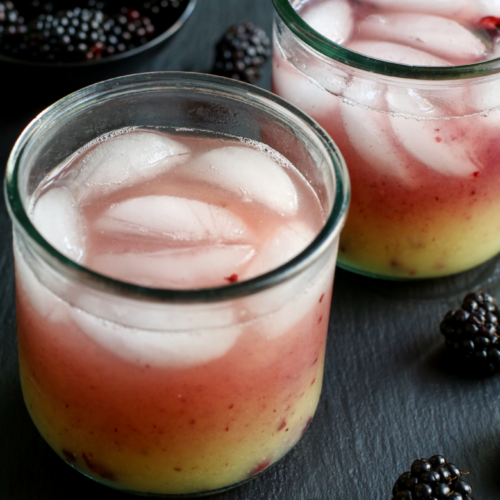 Pineapple Ginger Agua Fresca
Agua fresas are a delicious way to drink your fruit, pulp intact! A refreshing, non-alcoholic drink that can be enjoyed year round.
Get creative and add a spritz of lime juice, mulled black berries, or some freshly blended watermelon juice to your Pineapple Ginger Agua Fresca! Add the optional add-ins separately to when serving to make a beautiful display of colors! 
Ingredients
2

tablespoons

chopped fresh ginger

(or more to taste)

4

cups

water, divided

2

cups

chopped fresh pineapple  

(or frozen)
 Optional ingredients:
fresh lime juice

blackberries

blended watermelon
Instructions
In a high speed blender, combine the ginger with 1 cup of water. Blend until smooth. Using a mesh strainer, pour the ginger juice into a cup. Discard the pulp. Add the ginger juice back to the blender.

Add the remaining 3 cups of water and the pineapple. Blend until smooth. There will be foam on the top, but this will eventually settle.

Pour the agua fresca into large glass jar(s) and then chill in the fridge until ready to serve.

Once ready to serve, add to glasses with ice and pour in any additional ingredients. Enjoy!