This Cilantro Lime Dressing is my go-to dressing of choice. It's spicy, zesty, creamy, and so delicious! It's a plant-based sauce that's made with whole food ingredients, such as tahini, lime, habaneros, and miso paste. The uses for this dressing are endless. Use for pasta salads, bean and grain bowls, tacos, wraps, and more! You can even just use it as a veggie dip. 
This Cilantro Lime Dressing has become a staple in my kitchen, so it needed its own space on my blog. The dressing was first introduce on my blog with my Cilantro Lime Pasta Salad. I have made a few tweaks to the sauce since that recipe was launched (that sauce is still delicious!). However, the biggest differences between the two recipes: the garlic and the habaneros. This recipe has a lot less habaneros in it and no garlic. I realized in the past year that raw garlic gives me acid reflux, and I feel so much better without it. So I took the garlic out of the recipe, and it was just as delicious without it! That being said, if you love raw garlic- feel free to add it back in! I also cut down on the habaneros in this recipe. As a stand-alone recipe, it was way too hot with double the amount of habaneros. The other recipe was very spicy, but once it was added with all the pasta salad ingredients- the heat majorly cooled down (at least in my opinion).
This is a double recipe! I personally just cannot get enough of this sauce. I make a big batch of it and stash half of it away in the freezer for the next time I need it— and then I always have a delicious sauce on-hand (and it saves me prep time).
A few notes before you get started:
TAHINI: I learned it the hard way. Not all tahinis are created equal. I typically by the 365 Whole Foods Brand of Tahini- and it's so smooth and creamy. Raw tahini is also a fantastic option. However, I once bought a different band of tahini that was SO over roasted- it completely ruined this sauce for me.  So that being said, I guess the kind of tahini can really change the outcome of this sauce! Who knew! You don't have to use the 365 tahini, but definitely give your tahini a taste before trying it out- if it's really roasted, perhaps next time try to find a raw or lighter roast variety.
LIME: I love the taste of fresh lime juice in this recipe- but for ease, you can use a store-bought 100% pure lime juice. You may miss out on some of the zesty flavors if the lime zest is omitted, but I am sure it will still be a great flavor. 
HABANEROS (or other chiles):  I find that habaneros really vary in their heat, so use caution when adding. You can always start with less and add more as desired while blending, especially if you are sensitive to the spicy flavors. I also just want to caution: avoid touching the seeds while chopping! I have made the mistake far too many times and the feeling after is not fun! Use gloves for extra caution. Leftover habaneros can be chopped and stored in a container in the freezer until the next time you need them for a sauce. For a more mild spice, use jalapeños in place of the habaneros. You are free to play around with different chile peppers in this recipe!
WHITE MISO PASTE: I use miso for salty flavor- it's a technique I have carried over from my day job. If miso isn't an option for you, you can omit and use a pinch of iodized salt, if needed. 
USES: there are so many ways to use this sauce. One of my favorite ways is over a bowl of chopped kale, quinoa, chickpeas/ tofu, with a rainbow of veggies. It also pairs great with a pasta salad or drizzle over your tacos to add a zesty, spicy flare. Use it as a veggie dip or as as spread on a wrap. There are so many ways to enjoy this sauce.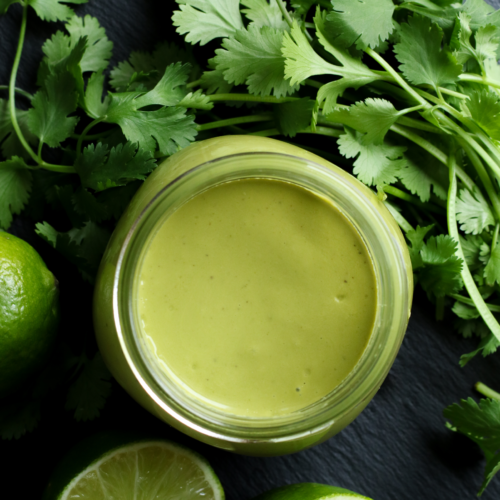 Cilantro Lime Dressing
A spicy, zesty, creamy, and delicious Cilantro Lime Dressing! It's a plant-based sauce that's made with whole food ingredients. The uses for this dressing are endless. Use it for pasta salads, bean and grain bowls, tacos, wraps, and more! You can even just use it as a veggie dip.
Ingredients
⅔

cup

tahini

3½

cups

chopped fresh cilantro

(about 2 bunch of cilantro, including stems)

¾

cup

lime juice

(about 7 limes)

4 teaspoons lime zest

(from about 4 small limes)

½

cup

water

¼

cup

white miso paste

2-4

tablespoons

seeded and chopped habaneros

(about 1-3 habaneros)

black pepper to taste
Instructions
Wash and prep all the ingredients. Use caution when chopping the habaneros, as the seeds can burn your skin.

Combine all of the ingredients in a high-speed blender. Start by adding less habaneros and add more while blending until the desired spice level is reached. Blend until smooth and creamy.

Store in an air-tight container in the fridge or freezer. The sauce will keep in the fridge for 5-7 days. For longer storage, transfer to the freezer and thaw completely before using.

The sauce will thicken as it sits. Feel free to stir in a little more water, as needed, before serving. Enjoy!
Notes
Makes about 3 cups. Serves 10-12 people.
For a recipe video tutorial of this Cilantro Lime Dressing, click below to watch on my Instagram page! Leave a comment if you make it—I would love to hear your feedback!
 

 

 

View this post on Instagram