This Spicy Peanut Sauce has the perfect balance of flavors to create an irresistible sauce that you can use in so many ways! The fresh lime juice and zest give the sauce a citrusy hint. The ginger gives it a warm and spicy taste, while the habaneros really turn up the heat. The dates, my whole food sweetener of choice, add a slightly sweet touch to this sauce. If you want a hint of smokiness, use smoked paprika in place of regular paprika. 
Peanut Sauce has been a favorite of mine for years now. There are two other variations on my blog, but this variation features a lot of fresh ingredients, include fresh habaneros and ginger. My family recently made this sauce for a Build-Your-Own Bowl Style dinner (we served a variety of beans, whole grains, and vegetable)  with a few of my sauces recipes- including this Spicy Peanut Sauce- and all the sauces were a hit! 
Sauces really bring dishes to the next level. I can eat the same kind of meals over and over and keep them interesting and novel by using different sauces. Or I can use the same sauce in multiple ways to shake things up. Here are some ways to use this peanut sauce. 
Uses for the sauce:
Bean and Grain Bowls: this is one of my favorites. Pick your favorite greens, whole grains, beans, and vegetables (cooked or raw) and toss it with the peanut sauce.
Pasta: Pick your favorite whole grain or bean pasta, add in your favorite vegetables and black beans (or tofu), and you've got yourself a delicious meal. 
Stir Fry: Pick your favorite whole grains, tofu, and vegetables. Stir fry your veggies and serve with the peanut sauce. 
Dip: Use this sauce as a dip for your favorite vegetables (raw or cooked). 
A few notes before you get started:
Spice level: This peanut sauce is pretty spicy, according to my wide range of taste testers. If you are one that is sensitive to spicy foods, I would suggest starting with less habaneros and working your way up. Only had a small amount when first starting to blend the sauce, then give it a taste and blend in more until it reaches the desired spice level. I do find that once the sauce is used in dishes, it does mild out more- but that's just my experience! You can also omit the habaneros all together and just use cayenne pepper to taste.
Consistency: Feel free to thin the sauce, as desired. If it's too thick for how you plan to use it, add a little more water as desired. It may thicken overnight as it sits, just stir in more water, as needed, until it reaches the desired consistency.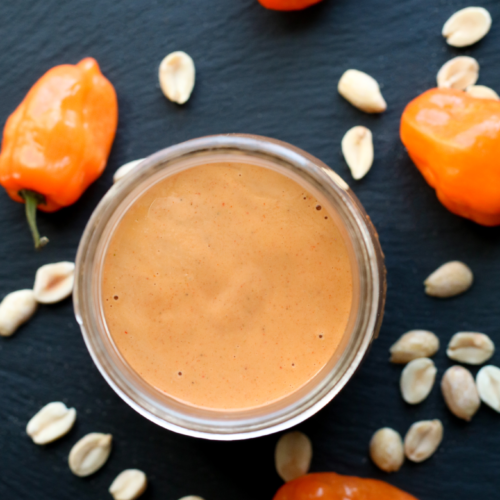 Spicy Peanut Sauce
A delicious peanut sauce to use on your bowls, pasta dishes, salads, and more.
Ingredients
½

cup

natural peanut butter

(no added sugar or oil)

⅓

cup

habaneros

(use less for more mild) 

¼

cup

chopped pitted dates

3

tablespoons

chopped fresh ginger

¼

cup

water, or more as needed for thinning

½

cup

lime juice

(about 6 limes)

2

teaspoons

lime zest (from about 1 lime)

(optional) 

2-2½

teaspoons

paprika or smoked paprika

½

teaspoon

black pepper, to taste 

2

tablespoons

white miso paste
Instructions
Combine all the ingredients in a high-speed blender, blend until smooth and creamy. Add additional water, as desired until the sauce reaches desired texture.

Store the sauce in an air-tight container in the fridge. The sauce may thicken as it sits, just add a little more water until reaches desired consistency. 
Notes
The sauce will last for about 5-7 days in the fridge. For longer storage, store the peanut sauce in the freezer and thaw before using.