Roasted Vegetable Quinoa Salad with Lemon Basil Dressing
A flavorful, plant-powered salad that is packed with greens, beans, whole grains, vegetables, and topped with a creamy cashew lemon basil dressing. This Roasted Vegetable Quinoa Salad is packed with a rainbow of vegetables, making it a feast for your eyes——and all of your body, of course! Phytonutrients are what give plants their colors, and they are known for helping to help keep our bodies healthy. Eating a rainbow of colors every day helps ensure we are getting a wide variety of phytonutrients in our bodies and reaping the benefits of all the different kinds.
This salad combines some of my favorite flavors, textures, and foods into one meal! Quinoa is one of my favorite whole grains. One main reason is that it's super simple to make and takes only about 15 minutes to cook. I love how light it is too. Roasted chickpeas are one of my favorite ways to enjoy beans and add a plant-protein to my salads. Roasting chickpeas makes them crunchy and adds some nice texture to meals. Purple sweet potatoes are one of the most beautiful potatoes I have ever seen. I love the dense texture and the beautiful pop of color they add to any dish. Kale is my go-to green of choice— chop it up fine and give it a little massage to make it a bit tender. It's hearty green and can sit soaked with dressing for days without getting soggy. It's also a good source of calcium! 
Notes before you get started:
PURPLE SWEET POTATOES: I love to use purple sweet potatoes to give this dish a lot variety with the color. I find it best to roast the purple sweet potato whole to allow it to keep the bright purple color. Roasting it in cubes works, but the color will be much darker and not as colorful. To roast the potatoes whole, I just wash the potatoes and roast it on a sheet pan lined with a silicone mat. Flip the potatoes throughout the cooking process. Pierce with a fork around 30 minutes to check if it is done. You'll want the potatoes to be tender, but try to avoid over cooking. Allow the potatoes to cool and then slice and dice.
ORANGE SWEET POTATOES: For orange sweet potatoes, you will want to cube the raw potatoes and then roast them. The orange sweet potatoes are bit more moist and less dense than the purple sweet potatoes. Though super tasty when roasted whole, they may get too soft and mushy for the salad (meaning you might not be able to make them into cubes). So it's best to roast these in cubes. 
COOKING QUINOA: If your quinoa is not cooked, combine 1 cup water with 1/2 cup uncooked quinoa in a small sauce pan or 2 cups of water with 1 cup of uncooked quinoa. Bring to a boil and then reduce the heat. Allow quinoa to cook on low for ~15 minutes or until tender.
CHICKPEAS: Roasting chickpeas is super easy- just open a can, drain & rinse, and pop onto a lined baking sheet. Roast for about 30 minutes, maybe a little longer. I usually just keep mine plain, but if you like to spice them up- feel free to toss on your favorite herbs and spices. I keep any leftover plain roasted chickpeas in an uncovered bowl on the counter. You could also store them in a paper bag. They tend to get soggy when placed in the fridge- but if you feel more comfortable doing it this way, you can always toss them in an air fryer or the oven the next day.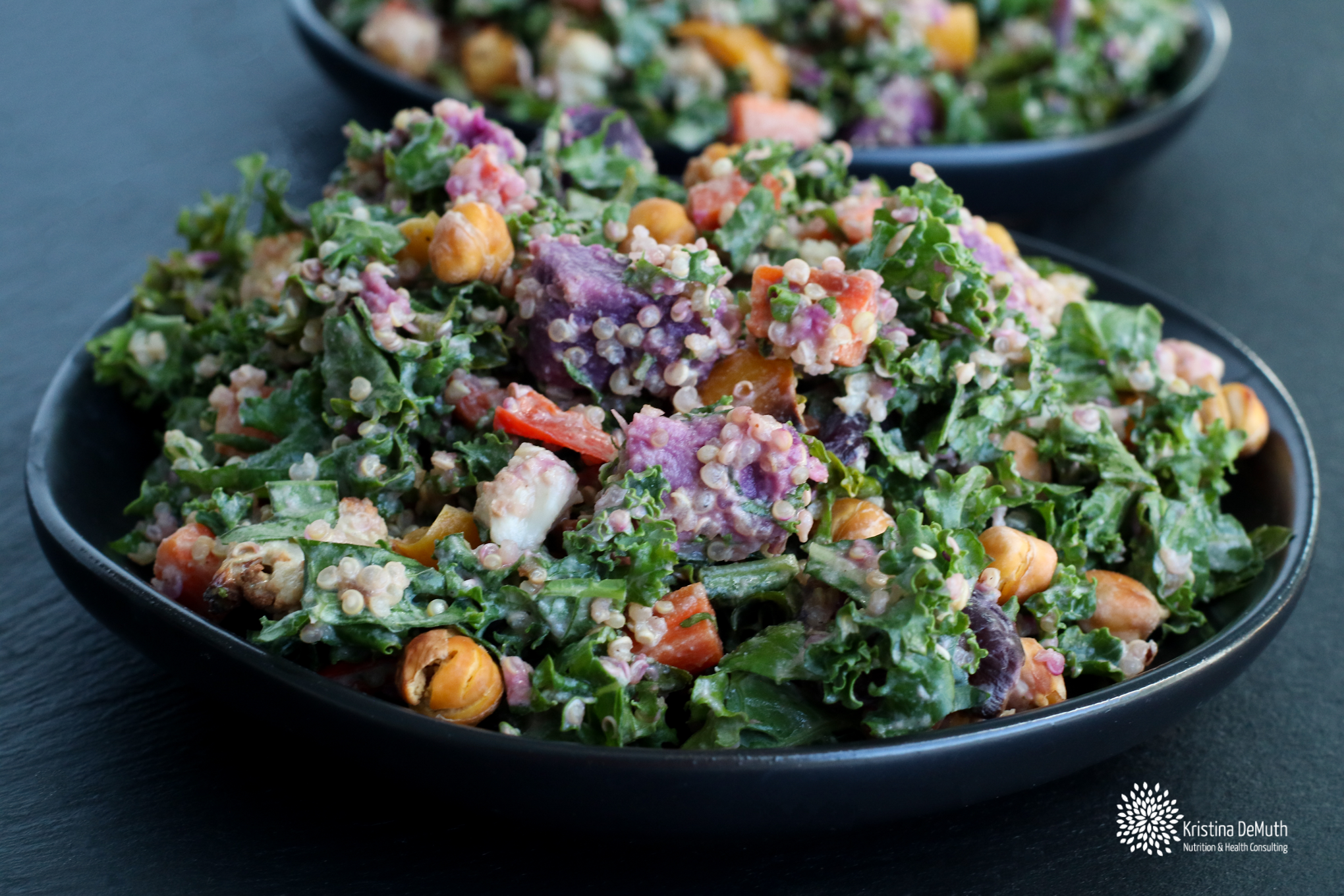 Roasted Vegetable Quinoa Salad with Lemon Basil Dressing
A flavorful, plant-powered salad that is packed with greens, beans, whole grains, vegetables, and topped with a creamy cashew lemon basil dressing. 
Ingredients
Salad
2

large sweet potatoes or purple sweet potatoes

(see note)

4

cups

chopped broccoli or cauliflower

2

large bell peppers, chopped

1

large red onion, julienne cut

2

cups

chopped carrots

2

(15 oz) cans

chickpeas, drained and rinsed

(or 3 cups cooked)

10-12

cups

finely chopped kale 

¼ – ½

cup

fresh basil, chopped

(optional) 

2-3

cups

cooked quinoa 
Dressing
½

cup

raw cashews

¾

cup

water

½

cup

fresh lemon juice

2

tablespoons

nutritional yeast

(optional)

½

teaspoon

black pepper

(or to taste)

½

cup

fresh basil 

½

teaspoon

garlic powder

1

tablespoon

white miso paste
Instructions
Preheat the oven to 425F. Wash the vegetables. Line baking sheets with silicone mats or parchment paper. If using orange sweet potatoes, cube them. If using purple sweet potatoes, place them whole on the lined baking sheets (see notes). Prep the rest of the vegetables and place them on the line baking sheets. Add the chickpeas to a lined baking sheet. 

Roast the vegetables and chickpeas for 30-40 minutes, rotate them at about 20 minutes. Some vegetables might require more or less time, so it's best to check them often and rotate them. Add more time as needed until the vegetables and chickpeas reach desired texture. 

Wash the kale well, then chop fine. Add to a large bowl and massage until tender. Chop the basil, if using, and add to the bowl.

In a high-speed blender, combine the dressing ingredients. Blend until smooth. 

Add the cooked quinoa, roasted vegetables, and diced sweet potatoes to the bowl with the kale. Top with the dressing and toss to coat. Serve with topped with roasted chickpeas. Enjoy!